Federal Court Orders DHS to Reinstate DACA Programs
Dec. 14, 2020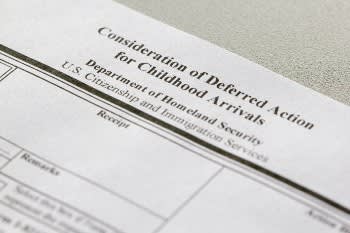 On June 18, 2020, the United States Supreme Court decided the matter of DHS v. the Regents of the University of California, et al, a collection of court cases known collectively as the DACA Issue before the Court.
In DHS v. Regents and the accompanying cases, DACA recipients and those supporting the continued use of the program argued that the Executive violated the Administrative Procedures Act in terminating DACA. The Executive branch argued that they had the right to terminate DACA, and did so properly. In a 5-4 decision, the Supreme Court sided with DACA recipients, basically stating that the Executive erred in how they decided to terminate the program. This is not a full victory for DACA recipients, as the Executive has the option to again terminate the program and follow the procedures laid out by the court. The question, however, remained what President Trump would do during an election year.
The response of the government was swift – a memorandum from the Department of Homeland Security in July 2020 made a mockery of the Supreme Court's decision. Chad Wolf, then acting head of DHS, directed DHS personnel to take all appropriate actions to reject all pending and future initial requests for DACA, to reject pending and future applications for advance parole absent exceptional circumstances, and to shorten DACA renewals consistent with the parameters established the memorandum.
Litigation on this memorandum and the impact it had on the DACA program came quickly. On November 14, 2020, Judge Nicholas George Garafuis, judge of the Eastern District of New York issued an opinion on the memorandum. Judge Garafuis determined that Chad Wolf was improperly appointed to his role as Acting Chief of the DHS, and therefore lacked the authority to issue the July memorandum. Judge Garafuis ordered DHS to act upon this decision to reinstate DACA fully, which it did not do for a period of three weeks. Finally, on December 4, 2020, Judge Garafuis ordered the government to post public notice of the reinstatement on the USCIS website within three days. The notice was posted on Monday, permitting new DACA applications to be submitted, advanced parole requests to be submitted for current DACA recipients, and extending the employment authorization provisions from one year to two years for all qualified recipients.
This decision has created a great deal of relief for immigrants and provides opportunities to individuals who may have missed filing for DACA in the past, and wish to do so today. The requirements for new DACA applications are not easy to fulfill, and the burden of proving you qualify rests on the alien – for these reasons having an attorney who understands the process and can give you the guidance you need is essential in your case.
William Quirk has helped many individuals through the DACA process in the eight years the program has been in place. He is ready and willing to review your case to determine if you are eligible and will help you through your journey.