Preparing for an Embassy Interview
Nov. 11, 2022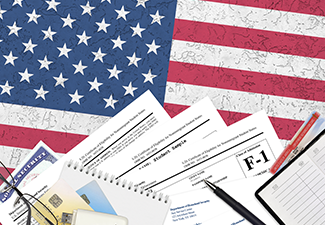 If you're living overseas and intending to immigrate to the United States and have completed an application to become a lawful permanent resident (LPR), or if you have lived here and applied for a provisional waiver to return through legal means, you will be requested to undergo what is called consular processing. Consular processing involves an interview at the U.S. Embassy or Consulate in your home country.
Before you are invited to a consular processing interview to become a lawful permanent resident, one of three things must have happened. First, either a U.S. citizen or someone with LPR status must have completed an I-130 petition, or an employer received labor certification for you and submitted an I-140 petition. Lastly, you have to be chosen.
Even if you're applying for a temporary student or other visas, you will also be required to undergo consular processing.
Going to an interview for your visa can be a somewhat frightening feeling. You really don't know what to expect. Attorney William J. Quirk has helped immigrants from five different continents and has provided assistance to individuals facing consular processing. Also, he has developed a guide list to help those facing interviews overseas to better prepare.
If you are in Hackensack, New Jersey, Clifton, Paterson, or West New York areas, contact him with all your immigration questions and concerns at William J. Quirk, Esq., LLC.
Preparing for the Interview
As part of consular processing, you are required to undergo a medical examination, which should be done before arriving for the interview. These medical examinations generally take place in the city where the Embassy or Consulate is located, so if you are far away you may have to travel up to a week early to handle these appointments. You don't want to miss the time of your appointments because you had difficulty traveling to the site. Missing these appointments will delay the printing of your visa.
You also must bring with you original copies or certified civil copies of all documents required for the interview. You are required to bring the following with you:
YOUR APPOINTMENT LETTER: The appointment letter you received from the National Visa Center (NVC).

YOUR PASSPORT: Your passport must be valid for at least six months after your projected arrival date in the United States.

PHOTOGRAPHS: Two identical color photographs of yourself and any eligible family members you're bring with you.

THE DS 260 CONFIRMATION PAGE: This can be obtained online from the Consular Electronic Application Center (CEAC).

SUPPORTING DOCUMENTS AND EVIDENCE: Original or certified copies of all civil documents you uploaded to the CEAC, plus proofs of the claimed relationship (parent-child, spousal, business).
What to Expect During the Interview
The consular processing interview will be used to verify the information submitted for your visa. This includes collecting all the required documents you brought with you. Overall, the entire process can take between two and three hours.
If your visa is based upon marriage to a person living in the United States, the interview questions will concentrate on the background of your relationship to determine if it's genuine.
Questions include:
How did you meet your spouse?

How long have you known your spouse?

How much time have you and your spouse spent together?

How do you and your spouse communicate (text, email, phone, letters)?

How often do the two of you communicate?
If you're only applying for a temporary visa, questions will be focused on the purpose of your stay, the length of your stay, where you will be staying, and so on.
Who to Speak to If You Have Problems with the Interview
After the interview is done, the consular officer will grant or deny your visa. If you are denied, in some cases, the officer may request further documentation, but in most cases, a denial means you will have to reapply or apply for a waiver. The explanation of why there is a denial and your options will be given to you in a letter called a 221(g) letter.
You are not allowed to have legal counsel present during the interview, and the only persons allowed to be with you are family members, and even they may not be allowed inside the interview room.
If you are denied a visa after the interview, you will need to contact an immigration attorney to help you resolve the situation by seeking a waiver or by reapplying. Your best bet, of course, is to work with an attorney prior to the consular appointment to make sure you have everything you need and that you're prepared to answer questions they ask of you.
Trusted Guidance Every Step of the Way
If you're sponsoring someone for a visa in or around the Hackensack, Clifton, Paterson, or West New York areas, contact William Quick with all your immigration questions and concerns. He will guide you through the whole process and help prepare everyone in advance of what to expect and how to handle the consular processing experience.
Reach out today to the law office of William J. Quirk, Esq., LLC. Attorney William Quirk has helped people throughout the country with immigration law needs.