Zoom Court in 2021
Feb. 1, 2021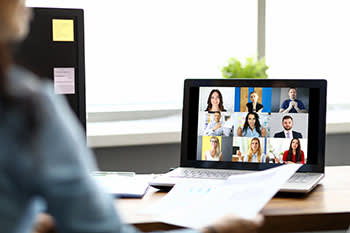 COVID-19 has devastated our country and has changed the way we live our lives. Just about every aspect of our daily lives have been impacted by the pandemic. The court system in New Jersey was rocked by the pandemic in March, 2020, but has become a model for courts around the country. Our system was able to very quickly transition to virtual hearings, and in 2021, the system is being improved every week.
Most people have not experienced virtual court, and wonder what the experience is like. Virtual court is in many ways different from in-person hearings, but will feel familiar to those who have been to a court hearing in the past.
If you have been charged with a traffic ticket, received a DWI, or a disorderly persons criminal charge, you will likely have your case handled by a municipal court in New Jersey. Each court has its own virtual hearing system set up through Zoom. If you have utilized Zoom in your daily life, the court experience is not unlike a meeting with work or friends. You will receive notice of court a few days to a few weeks before your hearing date, and included with this notice should be a Zoom link with login information. You need to keep this information so you can access the hearing. If you lose that information, it is usually extremely difficult to contact someone at court during the hearing time because they are busy handling the court's calendar. Spend the few minutes the day before to track down the information you need, and if you have lost it, contact the court then instead of the day of the hearing.
On the day of your hearing, you should log on to Zoom at least five minutes before the hearing time. You will be placed in the waiting room. Make sure you understand how to connect to audio, because the court cannot hear your case if they cannot communicate with you.
Once you are let in the hearing, you need to mute your audio until someone speaks to you. Leaving your audio open can cause tremendous problems, as everyone else in the hearing will be stuck listening to whatever is happening where you are located. Failure to do this can lead to you being removed from the Zoom hearing and your case rescheduled in some courts. Courtesy is key!
If you are not represented, you will need to wait until the court invites you to a breakout room to speak with the prosecutor. There you can negotiate out an agreement on your case, speak with the prosecutor about seeking a public defender, or tell the prosecutor you wish to take the case to trial. Once you have spoken with the prosecutor, you will have to leave the breakout room, and go back to the main room. If you accidentally leave the meeting, you will have to log back in to the hearing.
If you have an attorney, your attorney will speak with the prosecutor in your place, and then speak with you about a possible resolution to the case.
Once you return to the main room and the judge is ready to hear your case, you will speak with the judge by yourself or through the attorney. When the judge releases you from court, you are free to log off and your day "in court" is complete.
Virtual court saves you a trip to the courthouse. It is a more convenient way to handle cases, but it is still court. You need to treat it as court in the way you speak, act and dress. Just because you can have a hearing from your bedroom doesn't mean you should appear in your pajamas.
Attorneys are incredibly important in representation in virtual court. There are types of cases where you will need their assistance. In other instances, you can save time by hiring an attorney. Having someone who knows how to navigate the hearing process can make your aggravating traffic ticket a little less aggravating. An advocate like William Quirk can turn a bad situation into something much more manageable due to his experience and knowledge.